How does BestShot work?
The BestShot smartwatch application leverages your device's sensors to collect and process shot data and fitness info. In conjunction with the data, we are using proprietary algorithms and machine learning to recognize your shots and generate useful tips and analytics that will help you improve. You can access compiled stats and personalized advice on the companion smartphone application.
The more you play, the better the advice. With every new match or practice, our systems learn from the hundreds of thousands of data points recorded and improve the output so it's taylormade for you.
How do I set up BestShot?
For Apple Watch and iPhone, install the app on the phone from the App Store. The watch application will install automatically. Log in on the phone app.
For Android, install the app on the phone from Google Play. On your Android Wear watch, open the Play Store and search for BestShot Tennis, then install. Log in on the phone app.
On the watch, record the swings of your shots using the "Calibrate shots" feature from the menu. You are teaching BestShot to recognize your shots during match play.
Start a session on the watch and start playing a match or practice. Keep score by using the digital crown.
What do you need to keep in mind?
When you are ready to play, wear the watch, open the app, start a session and respond to the prompts on the screen. When you are done, close the session on the watch. Done. Check your stats on the phone app.
What is the BestShot Factor?
The BestShot Factor, simply known as The Factor, is a number that tells you how well you hit the ball. It has a percent value and represents how close your shots are to your best swings recorded during calibration. The closer the Factor is to 100, the closer you are to perfection.
What do the stats mean?
The stats and advice you see on your phone are compiled from all the data collected during match play. We combine a set of relevant stats that will give you a good picture of how you played, what went well and what needs improvement.
Who is BestShot best for?
If you're a pro, college, high-school, or recreational player or if you're just at the beginning of your tennis journey, using stats and fitness data is the best way to analyse and improve your game. The rich data combined with the built in artificial intelligence help BestShot understand you profile and suggest ways to improve your tennis game.
How do I calibrate my shots on Apple Watch?
After logging in on the phone, start the Apple Watch app. You should see the screen below: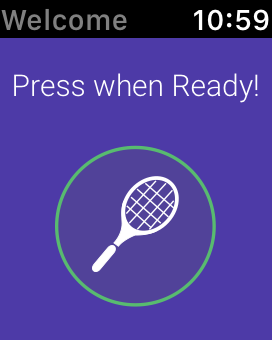 On this screen, force touch (firmly press the screen) until you see the menu screen below: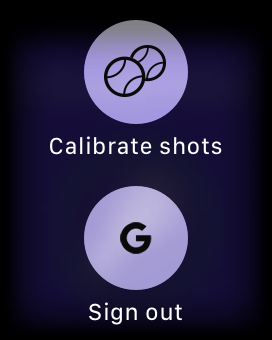 Tap on "Calibrate shots" and you should see the calibration screen. Follow the instructions to calibrate your shots.